---
This KAZOO Family Camping Tent 4 Person Saturn is full of great features, with aluminum poles, fly windows, awning configuration, and much more. Keep reading.
---
Key features & benefits
---
What this KAZOO Family Camping Tent 4 is about
Here you have the smaller tent from their Saturn series. This is a tent packed with some great and unique features. I would start with its general shape, so this is a very typical cabin-type tent with completely straight leg poles and walls. You can see this in the picture: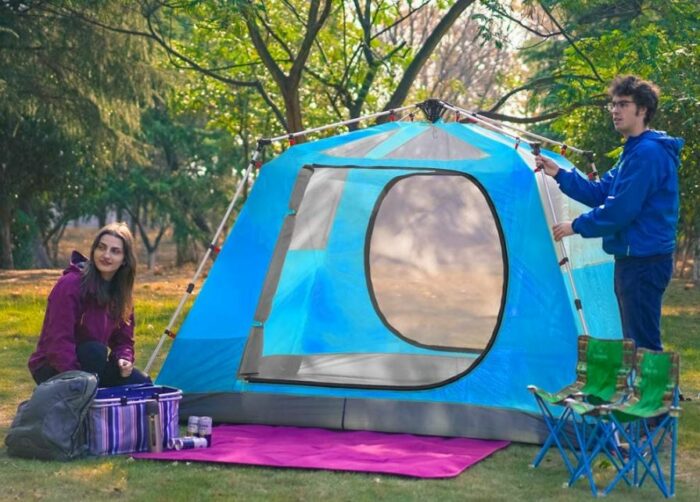 The tent is tall for its overall size, you have a peak height of 61 inches (155 cm). So this is not a stand-up height but the tent is roomy and with lots of volume because of its steep walls.
The tent is fully freestanding, and this means even after you add the fly on, you can still rotate it and move around in the camp. This is because the fly attaches to the tent corners with buckles. The fly is a full-coverage type and the tent is a true double-layer structure with an inner tent that is taffeta and mesh, and the fly that goes all the way to the ground.
Instant setup: So if you are not familiar with this concept, this means that the frame is permanently attached to the inner tent. So you unpack and unfold the tent and then simply extend its 4 legs. This is all done in under 30 seconds.
There are two doors here, both very large and D-shaped, see the picture below. The corresponding entry points on the fly are with dual zippers that run parallel. So you can create an awning with the included set of poles. This creates a pleasant shed where you can sit and cook your meals.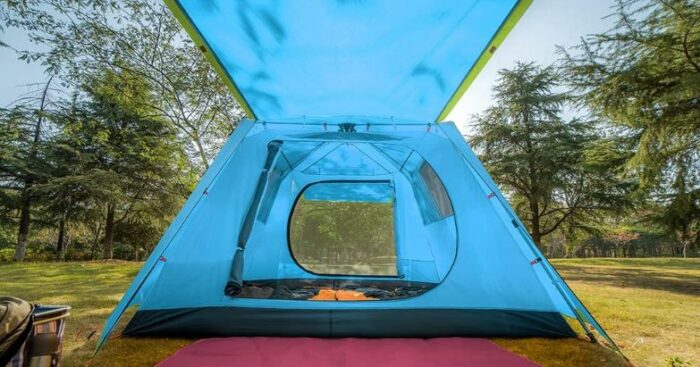 Note that the fly has 2 windows on the sides. They match the inner mesh areas, so when you roll the flaps up you have views around. The picture below shows the tent in its yellow version, with the awning setup, and with the fly windows rolled up.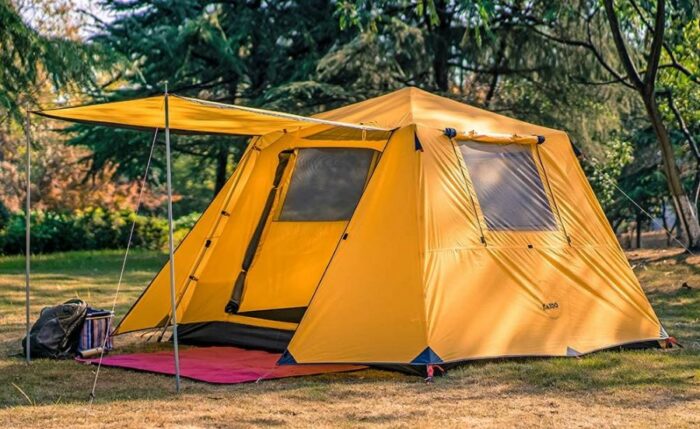 Ventilation
The inner tent has lots of mesh areas on the ceiling and on the sides, plus the two large mesh doors. The fly is full-type but there is always enough vertical airflow from the ground.
When the sky is clear this all will work great if you are in a warm area. But I miss a fly vent here. This is necessary when you have to keep all the openings closed due to rain. Pity they did not add something to fight condensation, this would make the tent perfect.
---
Materials
The poles
The frame is elegant and simple, just 4 legs poles and 4 roof poles that converge to a great looking hub on the top. But this is all 6065 aluminum and the tubes are 19 mm in the diameter. Such think poles add weight but I would not mind, this is a very stable and strong construction.
The fabric
The fabric quality is to match such great poles, so you have a 210T rip-stop polyester fabric and its waterproof rating is 3000 mm. The same material is used for the floor. All the seams are taped.
The mesh sections are also strong no-see-um netting B3 mesh and the taffeta parts are a 190T breathable polyester. In view of its price, I am really impressed with all this.
Other features include a couple of wall pockets, a carry bag is included, and you also have a full set of stakes and guylines, see the picture.

---
Who is it for
Regarding the size, the tent is with the declared capacity of 4 people. But the area is not so large, you have only 56.8 ft² (5.3 m²) and this means 14.2 ft² (1.3 m²) per person.
It is indeed very possible to put 4 pads on the floor. This can work great for a group of friends without much stuff. In the case of real camping, it is good enough for parents with one kid, or for a couple who can put a large queen size bed inside and still have some room to spare.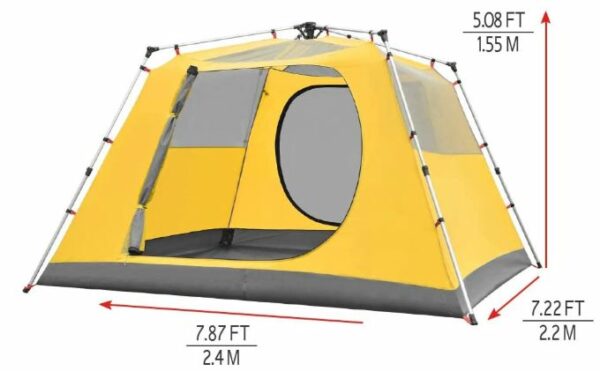 Regarding seasons & climate, this is a true 3-season tent. The waterproof rating is great, you have the full fly for protection, the frame is very strong. For warm weather you have plenty of mesh on the inner tent, this picture shows this clearly, the tent is shown without the fly: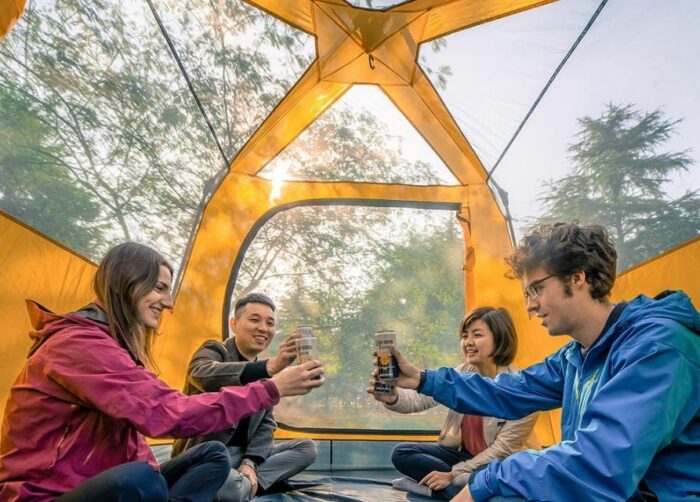 The tent is not very tall, and you have plenty of stakes and guylines to fix it properly in the case of strong winds. There is not much one could object here.
Regarding the weight & packed size, the tent is both heavy and long when packed. The weight is 14.31 lb (6.5 kg) and the packed size is 43.31 x 7.87 x 7.87 inches (110 x 20 x 20 cm).
Such a weight is because of its durable material, so this is not an objection at all. The length when packed is due to its telescopic poles, this is all very typical for such a design.
So accept these parameters as they are, they are normal for such a construction. This is a great car camping tent. See more in this short video:
---
Specifications
Declared capacity: 4 people.
Weight: 14.31 lb (6.5 kg).
Dimensions: 7.87 x 7.22 ft (240 x 220 cm).
Area: 56.8 ft² (5.3 m²).
Area per person: 14.2 ft² (1.3 m²).
Peak height: 61 in (155 cm).
Packed size: 43.31 x 7.87 x 7.87 in (110 x 20 x 20 cm).
Poles: aluminum.
Warranty: 2 years.
---
Final thoughts, rating, pros & cons
Please see how I rate the tent, I consistently use the same criteria for all the tents and this affects the average value, but you can easily compare with the other tents here in the site:
If you need more options in this capacity group, just check under the category Tents for 4 people, you will find them many in all shapes and sizes. Note that they have yet another similar tent but built as a dome, the KAZOO Outdoor Camping Tent Uranus.
Check this Ayamaya Pop Up Tent with Vestibule which is also for 4 people but an instant tent, and if you want several rooms, then this Coleman Ridgline Plus 4 Four Person Tent is the one to see.
You might want to bookmark this site and visit occasionally, stay informed, we add texts here regularly. Thank you for reading and have a nice day.