Welcome to our best tent for desert camping roundup!
We evaluated each tent from an unbiased perspective, picked out its best and worst points and looked at customer feedback. We reviewed them from a desert-camping standpoint, looking at how well they protect you from the sand and the sun, as well as their overall versatility.
For desert camping, you want something tough that can withstand wind, sand and heat. There are a few on the market boasting innovative features, so we investigated to find out which was the best feature for desert camping.
These tents are the best of the best when it comes to desert camping. Stick around to see which one is right for you!
If you're in a rush, the best tents for desert camping in 2022 are:
Kodiak Flex-Bow 4 / 6 / 8 Person Camping Tent – Best Overall Camping Tent
Quechua 2-Second 2 / 3 Person Pop Up Tent – Easiest Set Up
Kodiak Swag 1 Person Camping Tent – Best for Solo Campers
Coleman 10 Person Instant Cabin Tent with Dark-Room – Best Budget Tent
What tent do we recommend for desert camping?
Our top pick is the Kodiak Flex-Bow 8-Person Tent for its sturdy canvas construction and positive customer feedback. It is an excellent tent for desert camping that will keep you sheltered and last for years.
What about campers on a budget
If you haven't got the cash to splash on a long-term investment like the Kodiak, the Coleman Instant Cabin is a great alternative. It's available at a reasonable price and offers some really special features to justify its cost.
Reviews of the best tents for desert camping
Capacity: 8 | Weight: 84.59lbs | Dimensions: 114' (W) x 10' (L) x 6'5" (H) | Bag Dimensions: 30" x 13" and 50" x 5.5" | Doors: 2 | Power Cord Vent: No | Hydrostatic Head Rating: N/A | Price: $$$
This perfect tent is made of tough canvas and steel. The poles won't bend, and the Hydra-Shield canvas won't rip easily. The floor is thick and performs well. This is the excellent craftsmanship you need in a desert-camping tent and will last you for years.
A canvas tent is perfect for keeping sand at bay, even in heavy wind. The thick material also provides excellent UV protection, and the awning helps if you want to sit outside in the shade. This tent also works in cold climates, so you can use it on all kinds of camping trips.
Customers are quick to praise the Kodiak canvas tent's performance on sand but recommend you anchor the stakes with sandbags. Sandbags will add to the already mammoth weight load, which customers disliked, but it works for car camping. Users also disliked that the Kodiak canvas tent can grow mold in humid climates. 
---
Capacity: 3 | Weight: 7.3lbs | Dimensions: 6' (W) x 6'8" (L) x 3'3" (H) | Bag Dimensions: 25.6" x 3.5" | Doors: 1 | Power Cord Vent: No | Hydrostatic Head Rating: 200mm | Price: $
This is great for campers who want something easy to set up. It pops-up then requires staking at the sides where the vents are—but you'll need better stakes than those provided.
The large vents keep you cool easily. The white material stops heat attraction, and the black inner walls help keep things cool, too.
Campers and festival-goers alike found the material excellent for keeping out rain and small particles.
Some users worry about the interior material, saying it's not as sturdy as the outside. Others disliked the fiberglass poles, as fiberglass isn't as sturdy as steel.
---
Capacity: 1 | Weight: 17.5lbs | Dimensions: 3' (W) x 6'8" (L) x 2'25 (H) | Bag Dimensions: Unspecified | Doors: 1 | Power Cord Vent: Yes | Hydrostatic Head Rating: N/A | Price: $$
This one person tent is for sleeping only. There are some windows for if you want to lie down during the day and take a reading or phone break. These windows can also keep you cool at night.
If the weather conditions are cold, users say the tent holds heat well and protects you from dusty wind. Although, they also say it's difficult to get comfortable in such a small tent. Other users didn't have this issue and enjoyed the tent's integrated interior mattress.
Customers found carrying the tent an issue, though—it's heavy because it's canvas. Canvas tents are more durable than polyester tents, though, so you may feel the weight is worth the lifespan.
---
Capacity: 10 | Weight: 42lbs | Height: 6 ft 7 in | Dimensions: 14' (W) x 10' (L) | Bag Dimensions: 48.4" x 12.4" x 11.5" | Doors: 1 | Power Cord Vent: Yes | Hydrostatic Head Rating: 600mm | Price: $$
Larger party? No problem. This Coleman instant tent holds four queen air mattresses, two per interior room.
The instant setup means your large party will be inside and relaxing in no time. However, the stakes will take longer than with regular instant cabins, and you will need to replace the stakes supplied.
Once set up, users found no issues with the tent except in the rain. This tent is more for hot deserts. The darkroom technology keeps it cool inside the tent and offers UV protection.
There are plenty of mesh windows to provide excellent ventilation to keep your tent cool as well.
Users recommend seam seal, though—both water and sand can leak through the seams.
---
Weatherproofing and keeping the tent cool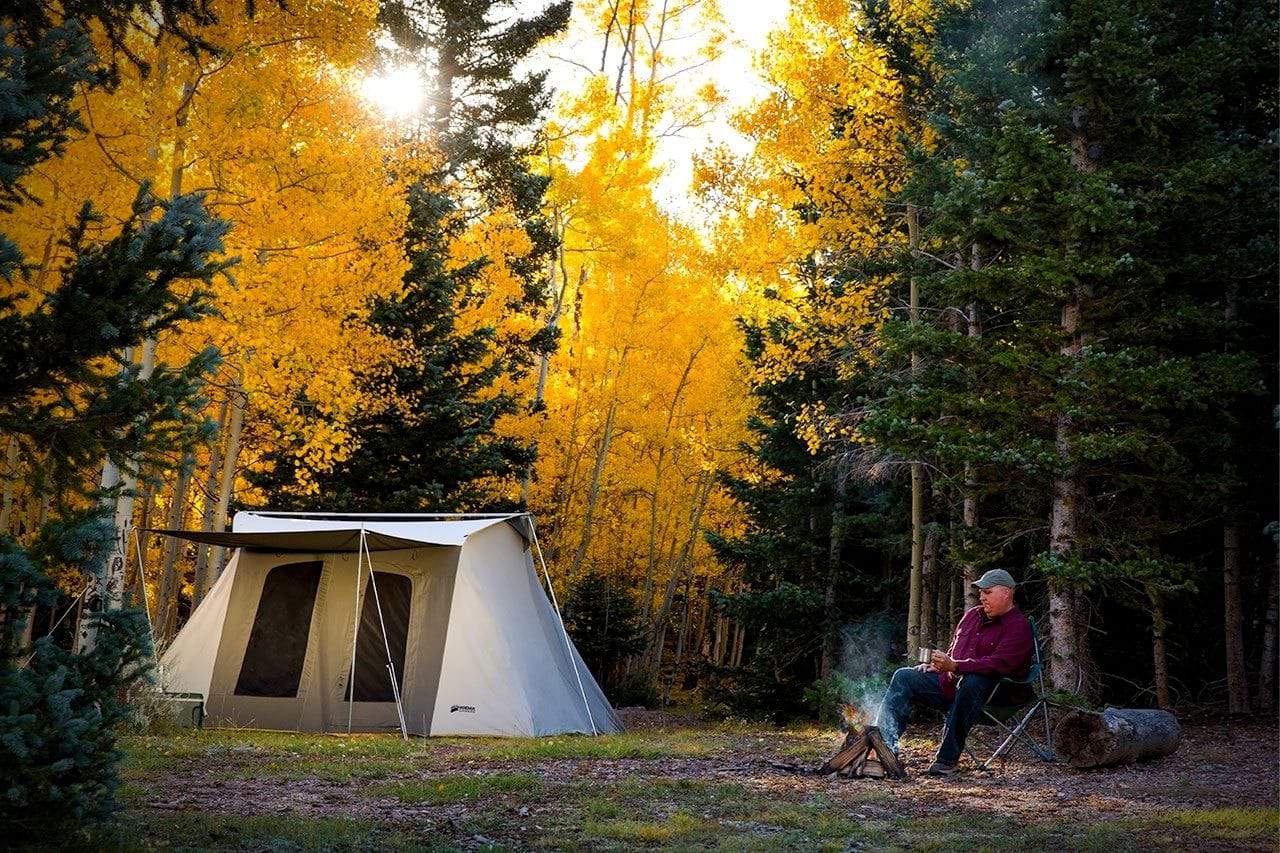 Best camping tents for the heat
Winner: Kodiak Flex-Bow 4/6/8 Person Tent & Coleman Instant Cabin 4/6/10 Person Tent
The Kodiak is a super tent for the warm weather of a desert. The canvas material insulates the tent, which means it stays warm in winter and cool in summer. This is perfect for desert camping as the nights can get chilly and the days can be scorching.
A breathable tent that can handle a range of temperatures is better for desert camping than one that's designed for hot weather only.
The Coleman Instant Cabin won't do a good job of keeping you warm if temperatures do drop at night. But it's an excellent tent for keeping cool in the heat thanks to the mesh roof and Dark Room Technology which keeps the inside of the tent dark and cool.
Related: When the weather gets really hot, air conditioning can be your friend. Check out our list of the best tents with air conditioner slots.
Which tent is best for dealing with extreme wind, Sand storm and dust Storms?
Winner: Kodiak Flex-Bow 4/6/8 Person Tent
All of the camping tents above are fantastic at dealing with sand, but there's one clear winner. The Kodiak Flex-Bow, with its Hyrda-Shield canvas construction and long, wide stakes, can't be beaten. It's the ideal tent for camping in a dusty desert. 
Canvas is better at keeping sand out of your tent. Polyester and other synthetics are great, but sand can corrode them and they tend to be quite thin.
Bathtub floors in tents are great for desert camping too, but none of the tents above have this. Consider constructing one using a tarp.
Plus, the tent is also excellent at dealing with harsh weather and a great tent for strong winds as well. If wet weather does role in on your desert camping trip, you don't need to worry in the Flex-Bow. It'll keep you dry even in heavy rain!
Which high-quality tent will last longest in the heat? (Canvas vs synthetic tents)
Winner: Kodiak Flex-Bow 4/6/8 Person Tent
If longevity is your primary concern, we suggest the Kodiak Flex-Bow. The canvas tent body and steel poles are both very rugged and sturdy materials.
Canvas, when properly cared for, continues to last longer than synthetic polyester and nylon. The most important thing is to never pack it when it is wet to avoid mold formation. And, though it might be tempting to choose a camping spot in the shade, make sure your tent gets some direct sunlight every day.
Synthetic tent materials do not last as long as nylon, and heat and sunlight will further deteriorate the clothing. If you choose a polyester tent, try to keep it as close to the sun as possible.
Which tent is easiest to setup?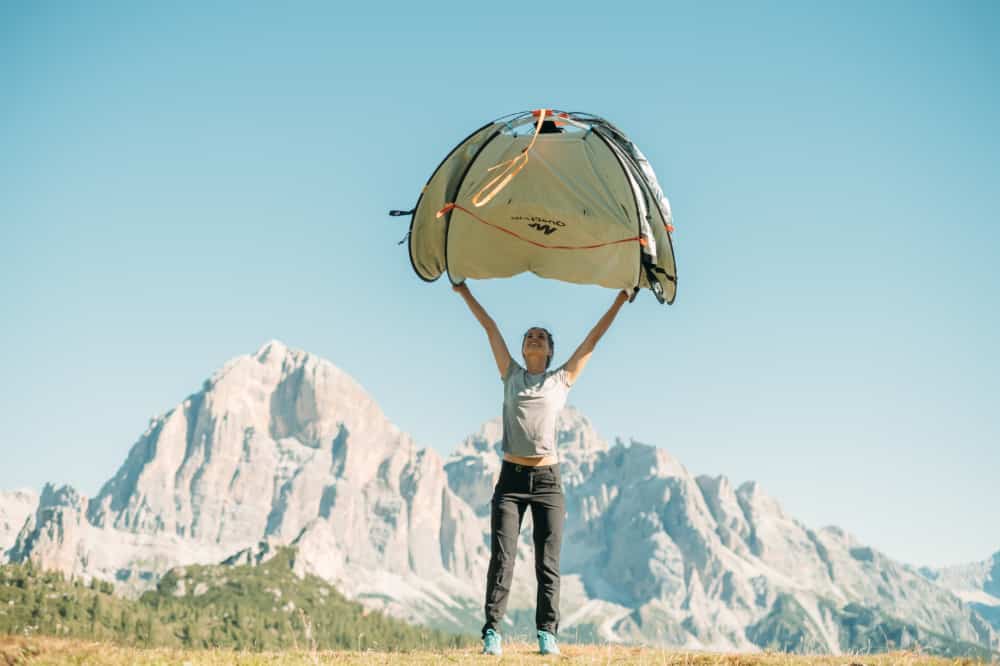 Can it be set up by one person?
Winner: Quechua Pop-Up 2/3 Person Tent & Coleman Instant Cabin 4/6/10 Person Tent
Both of these tents come with quick pitch technology which makes them super easy to setup. So easy that one person can manage by themselves!
Even beginners will find setting the Quechua up an easy process. In fact, anyone who can open a bag will find it easy – because that's all you need to do! Open the bag, let the tent fly and it will pop right into shape. Viola!
The Coleman has pre-attached poles so the fabric just needs to be unfolded and the telescopic poles extended and the tent should take shape. How easy is that?
Which tent is quickest to pitch?
Winner: Quechua Pop-Up 2/3 Person Tent
With the pop-up design, this tent claims that it can be set up in just 2 seconds – and usually we'd be hesitant to believe a claim like that. But the Quechua tent is truly remarkable when it comes to a speedy set up.
You literally just need to release this tent from the bag and it springs into action, pitching itself for you. All you have to do is stake it to the ground if you want (and maybe turn it the right way round if you didn't quite nail the release…)
Are these tents easy to carry?
Winner: Kodiak Swag 1 Person Tent
Although it's made from canvas which makes this tent quite heavy, it folds up neatly into an easy to carry bag.
None of these tents are particularly well suited to backpacking, being too heavy to carry or awkwardly shaped like the Quechua.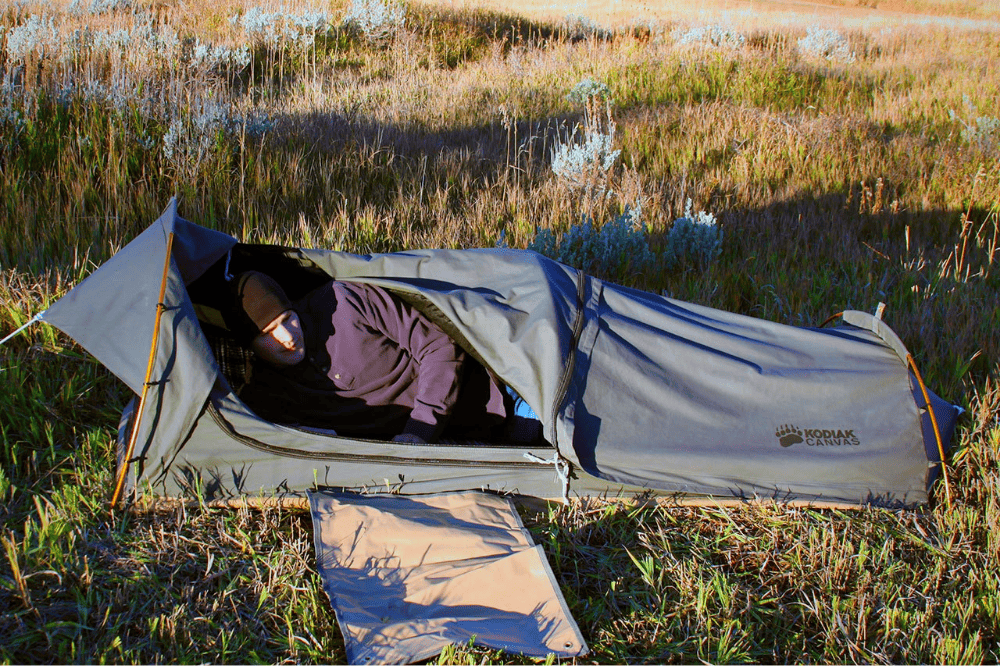 Who are these tents for?
Which camping tent is best for families?
Winner: Kodiak Flex-Bow 4/6/8 Person Tent & Coleman Instant Cabin 4/6/10 Person Tent
Both of these are fantastic options for families. The Kodiak is a long-lasting tent that will see your family through trip after trip, for years to come. The Coleman has plenty of space for the whole family to sprawl out in the tent.
Plus they both come with plenty of features to keep you and your family cool and protected in the desert.
Which tent is best for festivals?
Winner: Quechua Pop-Up 2/3 Person Tent
If your speed is more music festival than family camping, then the Quechua is a great choice.
If you're going to Burning Man or another festival in a desert, this tent is a godsend. Not only is there the Fresh and Black technology to keep you sheltered from the sun on delicate mornings, but the tent comes with the super fast set up thanks to its pop-up design.
Don't waste any time fighting with tent poles and sleeves whilst you miss out on a good time. Get your tent pitched and head into the festival for a good time!
Related: Do you like sleeping in on a sunny morning? Find out what the best dark room tent is.
Which is the most comfortable tent?
Winner: Coleman Instant Cabin 4/6/10 Person Tent
The best tents for desert camping vary considerably in size, so we can't do a direct comparison. However, we can recommend the most comfortable tents for different parties.
Larger parties should go for the Coleman instant tent if comfort is your main concern. It holds the most people comfortably, great for huge groups and glamping.
If you're a comfort-loving solo camper or couple, then the Kodiak Swag one person tent is best for you. Solo campers could use the Quechua, but you won't be as comfortable.
The Coleman is best for tall people thanks to its 6'7" height.
Which tent has the best storage options?
Winner: Kodiak Flex-Bow 4/6/8 Person Tent
None of these tents come with particularly good storage options but the Kodiak Flex-Bow comes with organizer pockets which are great for storing personal belongings.
The tent also comes with a customizable gear loft. If you need to keep things out of reach of curious little hands, this feature is brilliant.
FAQs
How to set up a tent in the desert
The main thing you want to focus on when setting up a tent in the desert is stakes. Sand is loose and won't cling to tent stakes very well—you need to get in deep, to the hard stuff.
We recommend ensuring your tent has wide stakes that are longer than average. Consider anchoring them with heavy objects too.
Our second tip for setting up a tent in the desert is to face the door downwind. We also recommend using a tarp under your tent to stop any abrasion between the sand and the tent floor.
Does it take longer to set up a tent in the sand?
It can take longer to set up a tent in the sand. If you need to anchor the stakes, it adds time to your set up. Longer, wider stakes may also take longer to work with.
What can you do to prevent sand coming into your tent?
There are a few things you can do to prevent sand from coming into the desert tent.
Pitch your tent with the door facing downwind.
Remove shoes outside and set up a welcome mat.
Bring a brush—if sand gets in, you can sweep it back out swiftly.
Do these tents come with dark room technology? (black out tents)
The Coleman desert tent comes with darkroom technology, and the Quechua's interior walls are black despite not being advertised as darkroom tech.
How to deal with desert creepy-crawlies in the camp?
Deal with desert creepy-crawlies by:
Keeping tent doors closed at all times.
Bringing a fly swat to whack them with.
Carrying bug spray.
Are canvas tents better for desert camping?
Canvas tents on the market like the Kodiak canvas Flex Bow tent are better for camping in the desert. They're tougher, last longer and easier to alter. The thicker material offers more sun protection than polyester.
Does the color of the tent matter?
The tent color doesn't matter for the most part but go for light colors if you can. Black exteriors attract heat, and that's the last thing you need!
How do you keep cool in the desert?
Keep cool by bringing:
Lots of drinking water.
Handheld fans.
Light clothing.
How to keep cool in your tent?
The best tents for desert camping need to be cool, thanks to the scorching desert sun. Here are some tips.
At night
It's naturally cooler during the night, but keep cool in the tent by sleeping in light pajamas with thin sleeping bags. Ensure there are extra blankets around in case it gets too cold.
During the day
In the daytime, the sun may be your worst enemy. Ensure you bring light clothing and handheld fans, but also consider bringing a portable air conditioner that you can supervise.
If a tent comes with a darkroom version, consider that too. They're often fitted with heat shields that block UV rays.
The top camping tent for desert camping
The best tent for desert camping is the Kodiak Flex-Bow 4/6/8 Person Tent. It's a great choice as it's tough, excellent at keeping the sun away from you and highly durable for camping and backpacking in the desert.
You won't need to replace the tent stakes if you invest in sandbags or wood, and campers had few issues with it in all seasons.