---
Coleman Instant 4 Person Camping Tent is a cabin type tent with an express setup under 1 minute, and with an incredible price tag.
---
Key features & benefits
---
What type is this 
The Coleman instant 4 man tent is what its name says – an instant setup tent. This means the following:
The tent is permanently attached to the poles.
The 4 main corner poles are telescopic.
So setting the tent up implies just unfolding it like an umbrella and extending the poles.
This is the smallest tent in the Coleman Instant Series of tents which includes several sizes, see for example this Coleman Instant Cabin tent 6.
This is also a single-layer tent, so the described setup is easy partly due to this too. So you do not have the usual inner tent and the fly as separate pieces. Rather, the tent is all built waterproof and they describe it as having a built-n fly. There are some downsides to this too, more below.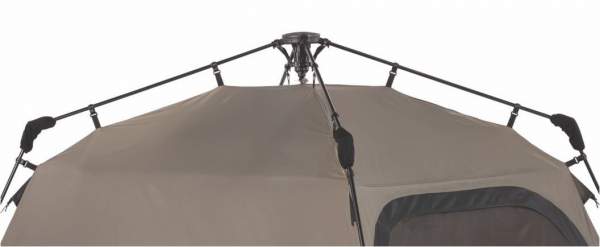 The tent is also fully freestanding, so you can pitch it anywhere, regardless of the terrain. Please see more about such tents in my separate text.
This is also a 3-season tent designed for mild conditions, and it is a cabin type as well. So the meaning of the former is that you would not use it in very a harsh environment. Being so tall and with such huge windows and without a fly, it would not do well in very strong rains and winds. There are waterproof panels on all windows and on the door, and the zippers there are covered by storm flaps, but without a full-coverage fly this is not a completely waterproof design.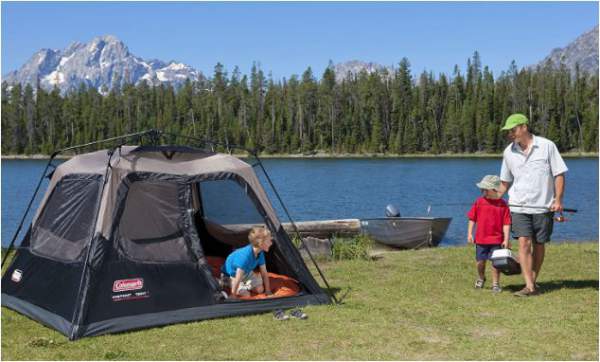 As for the term cabin type, you can see more here. But here just to point out that this implies the following:
a tall tent
almost vertical and straightened walls
huge windows.
So from this, you realize that this is a very livable structure. This is why it is without an extra fly, you want unobstructed views when you have such great windows.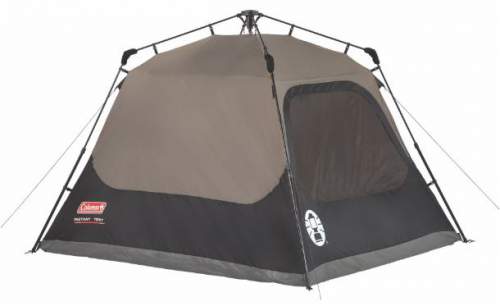 ---
Who is it for
The weight of the Coleman 4 Person Instant Cabin tent is 9.8 lb (4.45 kg) and its packed size is 38 x 18 x 9.5 inches (97 x 46 x 24 cm). From this, it is clear that this is a camping tent which needs a car for transportation.
The declared capacity is 4 people, but its dimensions are 8 x 7 feet (2.44 x 2.13 m), and the floor size is 56 sq ft (5.2 m²). So it is possible to squeeze 4 sleeping pads with 50 cm width each, but you will be cramped inside. Note that there is no vestibule, so you do not have any extra storage space for gear.
In view of such a size and features, this tent can indeed be used by 4 people at regular camping places or at some open-air gatherings, but ideally, you should use it for 2, maximum 3 people.
The tent is with large windows on two sides, plus a huge door with the mesh window on the front. So you can use it also as a sunshade on a beach or in the garden.
They write that it offers space for one queen size bed. So indeed, you can check this queen size camping bed from the same brand and you will realize that it fits nicely. Using such a bed for off-ground sleeping is better than a queen size mattress on the floor because you have a lot of space under the bed to store gear.
Is this tent for winter use?
I have seen some people asking this, so the answer is no it is not. If you need a winter tent you will have to pay much more, please see more in my page with tents, there is a section with winter tents. But the tent can indeed be closed and you can use it in a cold environment.
---
Weather protection 
They do not provide any information about waterproofness, there is only a statement about the WeatherTec patented system which includes welded floors and inverted seams.
The plastic welding used here creates the best and the most durable seals which will not deteriorate or decay in time. With such a technology you should be fully protected. See more about seams and sealing in my separate text.
I would not use such a tent in a very rainy environment with a lot of wind. Note that the panels must be closed if it is raining, so this cannot be a pleasant place if the rain continues for hours. There are two vents on the roof, but they too must be closed in the case of rain.
The rain fly question   
You do not need an extra fly, but it may be a good idea to buy one for extra protection. But this is a design with huge windows, for comfort in normal summer situations. So the rain fly which you can order separately here, is minimal by the design, and it covers only the roof, see the picture.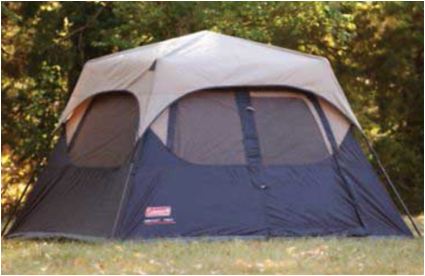 ---
Setup and construction
The structure is not so complicated as it looks, the telescopic corner poles are a true genius solution, you extend them until you hear a click; this means that a popup button is in place (see the picture) and the pole is locked to its required length.
The tent is far less attractive from inside. You have only two very small mesh pockets for small items, so this is quite disappointing. But the windows compensate for everything. Also, with its 59 inches (1.5 m) of peak height, this tent is really a livable space.
Ventilation
You have an excellent ventilation as long as the panels are not on. The large openings with mesh plus vents on the roof will allow for a free airflow. So you will not have issues with condensation in such circumstances. But with the panels on and with closed vents, this is a different story. So better avoid using it in areas with lots of rain.
---
Specifications
Type: freestanding, instant, 3-season, 4-person tent.
Weight: 18.2 lb (8.25 kg).
Dimensions: 8 x 7 ft (2.44 x 2.13 m).
Floor area: 56 sq ft (5.2 m²).
Peak height: 4 ft. 11 in (59 in, 1.5 m).
Packed size: 38 x 18 x 9.5 in (97 x 46 x 24 cm).
1-year limited warranty.
Instant setup in about 60 seconds.
---
Coleman 4 Person Instant Cabin Tent vs Kelty Camp Cabin 4
See how the Coleman 4 Instant tent compares with a model form Kelty, to see more please follow the link:
---
Summary, rating, pros & cons
As of the moment of writing this text, there are more than 3400 reports by customers on Amazon and the rating is very high. So this is indeed remarkable. The price is also incredible. Please see how I rate this tent.
Thank you for reading, please see around if you still need something different. There are many tents of various sizes and designs described on my page with tents. Check this Eureka Copper Canyon 4 built in a similar style and also Kelty Sequoia 4 tent. You might want to check this completely different dome-shaped type Marmot Limestone 4 tent.
Let me know if you have any comment or question, there is a comment box below. I wish you a pleasant day.