If you're in a hurry, our research found that the new REI Wonderland 6 is the best 6 person tent at this time.
Choosing a tent is a big decision, especially when you want to buy a large six-person tent. These tents are a big upgrade from the smaller two and four-person tents, which are mostly used for backpacking.
So whether you want to take your whole family on a camping trip, or you want to have a big adventure with all your friends, choosing the right tent is one of the most important camping decisions you can make.
Read on to find out what our top picks are, see the 6-Person Tent Overall Scores and to learn what you should look for when buying one of these tents.
Best 6 Person Tent: Our Top Picks
Best Overall 6 Person Tent: REI Co-op Wonderland 6
Best Budget 6 Person Tent:Coleman Weathermaster Tent
Best for Windy Conditions: REI Base Camp 6
Best for Extra Storage Space: The North Face Wawona 6
Best Tent for Easy Setup: Caddis Rapid 6 Tent
Best 6 Person Glamping Tent:White Duck 13′ Regatta Bell Tent
Best for Summer Camping: ALPS Mountaineering Camp Creek
Best for Durability: TETON Sports Mesa 10′ Canvas Tent
See our entire 6 Person Tent Comparison Table and Scoring Methodology.
REI Co-op Wonderland 6 Tent (formerly Kingdom 6)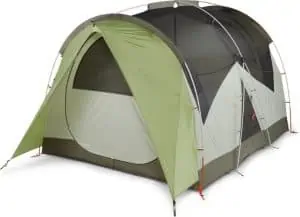 Type: Tunnel | Seasons: 3-season | Weight: 22 lbs 15 oz | Insight Height: 75″ | Floor: 120 in x 100 in (83.3 sq ft) | Setup Time: 10 mins
The REI Wonderland 6 is a brand new tent in 2022, replacing REI's excellent Kingdom 6 tent.
REI is widely known as a great outdoor brand – and looking at this tent, it's easy to see why.
What surprised me the most is that even though the tent is pretty big, the setup is relatively simple and easy. With two people it takes less than 10 minutes to fully set it up, despite it being a fairly spacious tent.
Speaking of size – the Wonderland 6 features a peak height of 75 inches and vertical walls. That means that movement inside the tent is easy as pie (and it gives you a lot more space than a dome tent to boot).
The biggest changes to the Wonderland 6 are the additional of inverted v-shaped windows at sleeping bag level. This helps with both ventilation as well as providing a viewing area for campers.
And secondly, the previous included vestibule is now only available for purchase as a mud room add-on. However, if you do this, you'll get an additional 56 square feet of storage space.
Now, I do have to mention that if you're camping in windy areas, this tent is not ideal. You want to choose a dome tent that is specially designed to withstand high winds.
Read the full REI Co-op Wonderland 6 Review here.
Pros:
Comes with a divider that can create two rooms for extra privacy
2 doors allow for easy movement in and out of the tent
6'2'' peak height and vertical walls mean you get a lot of extra space
For such a big tent it's relatively easy to set up, even for one person
Aluminum poles are both durable and flexible enough to stay erect even during windy conditions
Cons:
Pricey – it's not for budget-conscious campers
Vestible/Mud Room has to be purchased as an add-on
Best for: people looking for the overall best 6 person camping tent on the market today.
Check Price On REI
Check Price on ebay
The North Face Wawona 6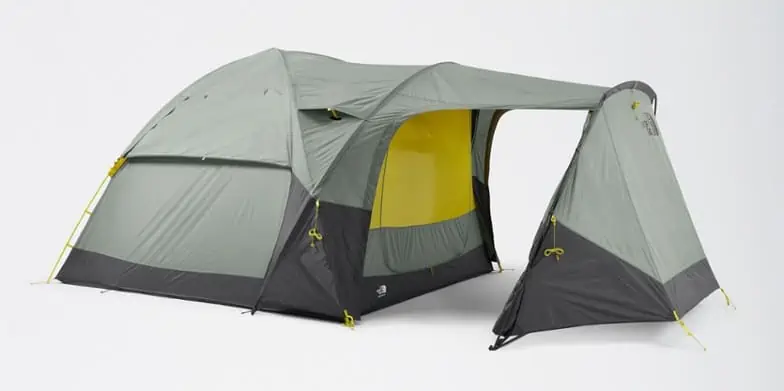 Type: Dome | Seasons: 3-season | Weight: 20 lbs 15 oz | Insight Height: 80″ | Floor: 120 x 96 inches (86 sq ft) | Setup Time: 15 mins
One of the most unique tents we have in this size group is the The North Face Wawona 6. It is a standard dome tent, but with an extra "heck yeah" feature with the covered porch vestibule giving you an extra 44.7 square feet of storage space.
So not only do you get 86 square feet inside the tent, but the extendable vestibule is great for storing bikes, coolers and other camping gear that you want to keep dry.
Weather resistance wise, we have noting but great things to say. This tent will keep you bone dry and stand up to wind as good as any other dome tent. With a 16 minute setup time, you are getting yourself a real winner with The North Face Wawona.
Pros:
Incredibly large 44.7 sq ft vestibule to store your gear
Quality construction and durability that can stand up to the elements
Lightweight at 20 lbs 15 oz, this is one of the lighter tents in this category
Plenty of pockets inside the tent for headlamps, lights and tablets
Cons:
A bit pricey for the size, but made up for in quality
Best for: Mountain bikers and campers who want extra storage space.
Check Price On REI
Buy Direct from The North Face
REI Base Camp 6

Type: Dome | Seasons: 3 – 4-season | Weight: 20 lbs 10 oz | Insight Height: 74″ | Floor: 110 in x 110 in (84 sq ft) | Setup Time: 20 mins
If you prefer dome tents, but still want that signature REI quality, this tent might be right up your alley.
The one thing that really stands out with this tent is its versatility.
80-degree weather? Mesh walls and plenty of vents will keep you cool without a hitch.
Camping in strong (40+ mph) winds? Its dome shape and sturdy poles will be able to handle it without bending or breaking.
It even performs well in lower temperatures, although I wouldn't use it for winter camping – there are better tents for that out there.
Pros:
Color-coded poles make setup super quick and easy
Lots of mesh pockets and loops means there's enough space for all your stuff
The rain fly is really great – not only will it keep you completely dry, but it won't get in the way of the vents keeping things cool
It will remain solid as a rock even in 40 mph winds
Plenty of vents means the airflow is never going to be an issue
Cons:
Even though setup is simple, it's still best done by two people
Getting the tent back into its bag might be a bit tricky
Best for: car campers looking for a great tent for windy areas.
Check Price On REI
Check Price on ebay
Coleman Weathermaster Tent
Type: Cabin | Seasons: 3-season | Weight: 32 lbs | Insight Height: 80″ | Floor: 11 x 9 ft (99 sq ft) | Setup Time: 20 mins
While being tall has its perks, sleeping in a normal-sized tent isn't one of them. It feels like anybody that's slightly taller than average is being forgotten by tent manufacturers.
That's why when I heard the measurements of this Coleman tent, my jaw nearly hit the floor.
With a peak height of 80 inches (yes, 80 – or 6 ft. 8 inches) this tent has got to be the best Christmas gift anybody taller than 6 feet could receive. Add to that 99 sq. ft. of floor space (153 sq. ft. with the screen room) and you get a veritable camping palace.
Tired of messing with zippers? Then you're going to love its hinged door – you can just walk right in hassle-free.
Now, it is supposed to be waterproof right out of the gate – but why risk it? Waterproofing your tent is cheap and easy and it's something I do with every new tent I buy.
Pros:
Remarkably affordable for a six-person tent
A staggering 6-foot 8-inch height means even the tallest people can freely move around
A waterproof bathtub floor means you can skip buying a footprint
The screen room can act as either an additional sleeping room or extra storage space
It comes with fiberglass poles, which are durable and corrosion-resistant
Cons:
At 32 lbs, it's pretty heavy – even for a car camping tent
You might have to additionally waterproof this tent
Best for: tall people and families looking for a lot of room.
Check Price On Amazon
Check Price at Walmart
Caddis Rapid 6 Tent

Type: Cabin, Instant | Seasons: 3-season | Weight: 25 lbs 8 oz | Insight Height: 80″ | Floor: 120 in x 120 in (100 sq ft) | Setup Time: 5 mins
Usually, the bigger a tent is, the harder it is to set it up.
That's not the case here. The Caddis Rapid tent really lives up to its name, considering it can be up and ready in less than 10 minutes.
If easy setup was all this tent had going for it, it would still be great.
But it's also an extremely well-made tent that is able to withstand all kinds of weather, has a ton of storage compartments, and is tall enough to fit an NBA player.
At 25 lbs, it's not the lightest tent around, but as a car camping tent, it checks a ton of boxes.
Pros:
Roomy – with 100 square feet of space and 80 inches of peak height, it will accommodate even the tallest of campers
Despite its size, setting it up is pretty much effortless
Comes with a gear loft and wall pockets that provide additional storage space
Has several windows that both provide great views and increase airflow to the tent
Cons:
The floor isn't that great, so you'll probably want to invest in a tarp
Best for: campers who want a family tent with easy setup and takedown.
Check Price On REI
Check Price on ebay
Coleman Carlsbad Tent with Screen Room
Type: Dome | Seasons: 3-season | Weight: 22 lbs | Insight Height: 72″ | Floor: 15 x 12 ft (120 sq ft) | Setup Time: 15 mins
The Coleman brand is famous for making quality tents at affordable prices, and their Carlsbad tent with a screen room is no exception.
This 6-person dome tent is pretty spacious, with a big screen room and enough space to accommodate two queen size air mattresses.
However, the main selling point of this tent is its Darkroom feature. That's Coleman's patented technology that blocks sunlight and reduces heat in the tent. This makes it a favorite of those campers who like to sleep late, instead of waking up covered in sweat at the brink of dawn.
Pros:
Darkroom technology reduces light in the tent allowing for deeper and longer sleep
Quick setup thanks to pre-attached poles
The screen room provides extra bug-free lounging space and ventilation
The screen area is also great for shoes and dogs so the inside of your tent stays clean
Made with high-quality materials that will ensure you remain dry even during thunderstorms
Cons:
The screen room is not protected by the rainfly
Weighs around 20 pounds so it's best used for festival and car camping
Best for: if you're not a morning person and you want to sleep in.
Check Price On Amazon
Check Price at Walmart
ALPS Mountaineering Meramac 6-Person Tent

Type: Dome | Seasons: 3-season | Weight: 16 lbs 1 oz | Insight Height: 72″ | Floor: 120 x 120 inches (100 sq ft) | Setup Time: 20 mins
At 100 sq. ft. with a 6 ft. ceiling, this ALPS tent is a good choice for families with kids who are looking to upgrade and are buying their first six-person tent.
This tent would be the best fit for casual campers who are looking to get a quality tent at an affordable price.
Pros:
Two doors mean you can easily move in and out of the tent without stumbling over other people
Thanks to its center height of 6 feet, most people will be able to stand upright and walk around
Roomy – with 100 sq. ft. of space, it can comfortably house a family of 4 and their gear
An affordable tent that will last casual campers a long time with proper care
Great ventilation that's built into the walls and the ceiling of the tent
Easy to pack and fits nicely into the included storage bag
Cons:
You may need help setting up if you're pitching this tent by yourself
Some people have reported problems with fragile poles
Best for: campers looking for an affordable dome tent.
Check Price On Amazon
Check Price on REI
CORE 6 Person Instant Cabin Tent
Type: Cabin, Instant | Seasons: 3-Season | Weight: 23 lbs | Insight Height: 72″ | Floor: 11 x 9 ft (99 sq ft) | Setup Time: 2 mins
Like some of the other tents we've mentioned so far, this CORE tent is a cabin tent. That means it has vertical walls which allow easier movement and greater comfort inside the tent. However, it's also an instant tent – which means its setup is quick and easy – hence the name instant.
What sets this tent apart is its ventilation – thanks to multiple windows and floor vents, you should have good airflow throughout your camping trip.
Pros:
2 minute set up and take down in fair weather conditions
The expandable carrying case makes it easy to pack the tent after taking it down
Great ventilation thanks to windows on both sides and the front door
The back wall comes with a big storage area where you can hang your gear
Inexpensive cabin tent for beginner buyers
Cons:
The floor is pretty thin so you should probably buy a tarp
The door zipper can get caught in the flaps running along the door
Best for: people who want a roomy cabin tent with great ventilation at a reasonable price.
Check Price On Amazon
Check Price at Walmart
White Duck 13′ Regatta Bell Tent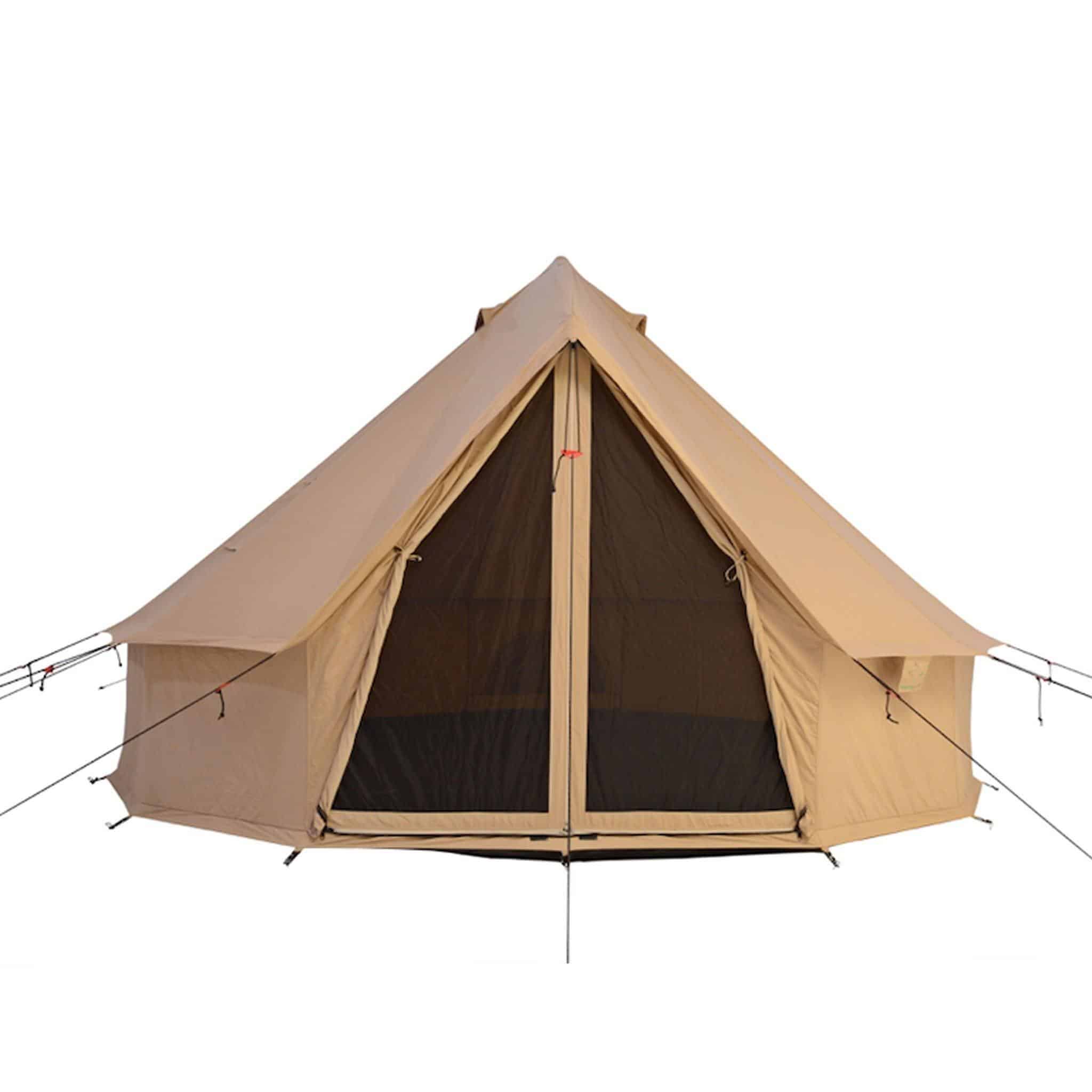 Type: Canvas, Bell | Seasons: 4-season | Weight: 71 lbs | Insight Height: 98″ | Floor: 13 ft diameter (132 sq ft) | Setup Time: 20 mins
A lot of camping tents are just fine – they get the job done, but you are always looking forward to coming back to a real house and bed.
With Regatta, however, you almost forget you're out in the wilderness – it's that comfortable. In fact, a lot of its users are using it as a second home in their backyards when they're not camping.
While it's definitely not a backpacking tent, its 70 lbs. weight makes it very manageable for most car campers. Add to that the incredibly simple setup (less than 20 minutes for one person, 10 minutes for two) and you can see why this is one of the best canvas tents around.
Pros:
Snow, rain, wind – this tent will stand up to them all without a hitch
Easy setup – even one person can do it without any problems within 20 minutes
At 70 lbs. weight, it's surprisingly lightweight for a canvas tent of this size
Three windows provide plenty of airflow for cooling and ventilation
Cons:
It's a bit tricky to pack it back in the bag
Best for: people who want a great glamping tent.
Check White Duck Outdoors Price
Check Price on Amazon
ALPS Mountaineering Camp Creek 6 Person Tent

Type: Cabin | Seasons: 3-Season | Weight: 27 lbs | Insight Height: 84″ | Floor: 10 x 10 ft (100 sq ft) | Setup Time: 15 mins
ALPS is a brand that's famous for quality, affordable tents, and this one is no exception.
With 100 square feet of space, a height of 7 feet, and a weight of 23 pounds, this waterproof tent has a great ratio of size, price, and quality.
On the negative side, the floor is pretty thin, so we recommend buying a tarp to avoid ripping the floor.
Pros:
Windows are screened, allowing you to have privacy inside your tent
Waterproof – even during long, heavy rainstorms
The tent can easily be put together by a single person
100 sq. ft. of space gives you a lot of room to move around
Cons:
The floor is thin, so buying a tarp is advised
It only has one door, so you can only enter and exit the tent from one side
Best for: people who want a solid, large summer tent.
Check Price On Amazon
Check Price on REI
TETON Sports Mesa 10′ 6 Person Canvas Tent
Type: Canvas, Cabin | Seasons: 4-season | Weight: 71 lbs | Insight Height: 78″ | Floor: 10 x 10 ft (100 sq ft) | Setup Time: 10 mins
The TETON Sports Mesa 10′ is the epitome of durable. With it's 100 square feet of floor size makes it a formidable competitor in your hunt for a 6-person tent. With the peak height of 78 inches (or 6.5 feet) means almost anyone can move around the tent with ease.
Add to that the fact it can be easily pitched within 5-10 minutes and that it's 100% waterproof, and you have one of the best canvas tents out there.
Now, no product is without its flaws. Like all canvas tents, this tent is not for people on a budget. You're are going to have to pay a pretty penny to get TETON Mesa. On the plus side, you can safely expect to hand this tent over to your grandchildren, so in the long run, it will probably end up cheaper than most nylon tents.
Pros:
100 square feet of floor space means you and your family will have plenty of room
Easy setup – most people can get it up and ready in less than 5 minutes
Comes with two extra-large doors that make movement easy peasy
100% cotton means it will keep you dry even during the worst thunderstorms
78 inches of peak height means even tall people can comfortably use this tent
Cons:
No way around it – this is not a cheap product. You pay a premium price, but get premium quality
Tent stakes are of lower quality – you might want to pay a few bucks to get better ones
Best for: campers who are willing to invest a bit more for the durability of a great canvas tent with an easy setup.
Check Price On Amazon
Check Price on Sportsman's Warehouse
Rightline Gear SUV Tent
Type: SUV | Seasons: 3-season | Weight: 20 lbs | Insight Height: | Floor: 10 x 10 ft (100 sq ft) | Setup Time: 30 mins
Here at Wilderness Times, we have a long and loving relationship with the Rightline Gear SUV tent.
In fact, we even listed it as one of the best SUV tents available today.
There are several reasons why we rank this tent so highly.
First off, it's big. With almost 60 square feet of floor space, it's got plenty of room for several people and their gear.
It also comes with a pretty large window that allows you to fully take in the views of nature outside.
Finally, it's an SUV tent – it attaches to your car for a more comfortable sleeping experience.
It's not all sunshine and rainbows though – the setup is a bit challenging and the ventilation could be better.
Pros:
Bathtub floor and polyurethane fabric will keep you dry even during heavy rain
Can be attached to an SUV for more comfortable camping
57 square feet of space means you'll always have enough space for your gear
A large window provides great views of your surroundings
Cons:
Setup is a bit tricky, especially for a single person
Ventilation is not the best, which can lead to condensation if you're not careful
Best for: car campers who want to attach a tent to their SUV.
Check Price On REI
Check Price at Cabela's
6 Person Tents – Everything We Recommend
Things To Look For In A 6-Person Tent
Before we get into the specifics about what makes a great 6 man tent, let's talk about who would get the most use out of this size.
The first group is families. If you and your spouse want to take the kids on some good old-fashioned family camping, 4-person tents will usually be too small to accommodate all of you. On the other hand, 8 and 10-person tents will be too big and take too long to set up. 6-person tents are a great compromise between those two extremes.
They are also great for couples who like camping with a lot of camping gear and/or with dogs. While four-person tents can be sufficient, upgrading to a larger size means you'll have more room to move inside the tent. You'll also have more interior space to keep your gear safe from the rain and high winds.
Finally, this size is great if you plan to go camping with a bunch of friends. It's a lot of fun to lounge around together in a spacious tent, playing cards or other games while it's raining outside. No one wants to be squished up against each other, so consider getting a six-person tent.
Advantages And Disadvantages Of Six-Person Tents
Like all things in life, 6-person tents come with their own set of pros and cons.
For example, compared to smaller tents, they:
Are bigger and more comfortable – you can easily move around in one
Come with more bells and whistles, for a better camping experience
Often have rooms inside the tent, offering greater privacy
Provide more storage space for your gear
Offer better weather protection, thanks to a sturdier construction
However, despite all those advantages, 6-person tents do come with a few downsides.
In general, they're pricier than smaller tents and usually a lot heavier – which means they are best used for car camping. If you're more interested in backpacking tents, be sure to check out our review on the best 4-person tents.
Now, compared to larger tents (8-person or more), 6-person tents have two great advantages. They are:
Cheaper
Lighter
If you have a big family and want to have them all under one roof, you should consider buying an even bigger tent. However, if you just want to take your kids camping, a 6-person tent would probably be a better choice.
Criteria For Buying A 6-Person Tent
If you're buying a six-person tent for the first time, you want to make sure you have the basic features covered.
Some things to pay attention to are:
Size. When a manufacturer says a tent can fit six people, it means six people can lie next to each other and have no room for anything else. Needless to say, that won't lead to a great camping experience, packed in there like sardines. You'll get the most out of these tents if you have 2-4 people inside.
That way everybody will have enough room to move around and the tent won't feel crowded. The average tent size of a 6-person tent can be anywhere from 80 to 150 sq. ft. Some of them come with dividers so you can have multiple rooms in one tent, and extra space for your gear.
Weight. All that size and comfort comes at a price, and that price is the weight. 6-person tents are usually heavier than smaller tents. If you're an ultralight backpacker they won't be the best choice. However, if you're into car camping or short hikes, having all that extra space is worth a few pounds more in weight.
Ease of setup and takedown. Nobody likes to spend time setting up a tent (or taking it down). That's why it's important to choose a tent that can be set up quickly and easily by just one or two people.
Weatherproof. One thing that is guaranteed to ruin your trip is waking up in a puddle of water. That's why we've only listed tents that are proven to be waterproof and wind-resistant.
Seasonality. Most of the tents on the market today are 3-season tents, which means they'll do great in any weather (except extreme blizzards). If you're an avid winter camper, you want to take a look at tents that are made from tougher material and come with thicker insulation.
Features. The final thing to keep in mind is which features and accessories the tent comes with, such as windows, doors, rooms, a rainfly, and so on. Some tents come with a lot of bells and whistles, while others are more basic in their design.
Our 6-Person Tent Rating & Review System
New in 2022, Wilderness Times has rolled out an entirely new tent rating and review system.
We've already been utilizing our own personal experiences, other campers we talk to, online reviews and any other piece of content we can get our hands on from YouTube videos to Amazon video reviews, etc.
But now in 2022, we've built out a new scoring system and algorithm powered review process. What goes into this? We grade each tent on a variety of metrics:
Space and Comfort
Quality and Durability
Value
Weather Resistance
Ease of Use
Intangibles (unique features and key selling points)
User Reviews
Depending upon what you are looking for in a tent, you'll want to pay more or less attention to each specific item.
Overall Score
Instant setup tents are perfect for summer camping or even day use, and that is where the CORE 6 Person Instant Cabin Tent and the Caddis Rapid 6 Tent really shine. These tents can be setup in 5 minutes or less.
But the rest of the 6 person tents we rated aren't any slouches either. They can all be typically setup between 10-20 minutes depending on the number of people in your party. The more hands you have on deck, the faster it'll go!
User Ratings
Last, but not least are user reviews!
We can get a lot of great feedback from user reviews, but they aren't perfect. The average tent owner won't ever leave a review, so reviews are typically left by users who either have a really favorable or unfavorable experience.
Of course even that is still good information, because if 90% of tent owners leave a positive 5-star review, then that is really saying something. So we blend reviews together from various sources and come up with an average user rating score. Here is how they shake out for 6-person tents:
Ok, so this chart does a good job showing why we don't solely ever want to take user ratings into consideration. We have found after reviewing many many tents, that REI users in particular tend to be very particular and since REI tents are only sold at REI, we also get some return/quality issues there too that aren't really quality reviews. .
So how do we fix this? We go through and read all of the reviews. We read the good, we read the bad, and then we factor in the quantity of reviews and calculate all of into our final User Rating score.